Everything about BTS's upcoming concerts
BTS World Tour Love Yourself
BTS today is probably the world's most famous Kpop act after being the first ever K-Pop group to address the United Nations. They told young people to believe in their own convictions and voices and need no further introduction.
If you are one of the lucky ones that managed to get a ticket to their sold out concerts, here is Zutter's usual concert guide.
BTS World Tour Love Yourself Tracklist:
Intro (VCR)
IDOL

Save ME

I'm Fine

Magic Shop

VCR (J-Hope & Jungkook focus)

Trivia: Just Dance (J-Hope solo)

Euphoria (Jungkook solo)

I Need U

RUN

VCR (Jimin & RM focus)

Serendipity (Full Length Edition) (Jimin solo)

Trivia: Love (RM solo)

DNA

21st Century Girl / Go Go / Blood Sweat & Tears / Boy In Luv / Danger (Medley)

OR

Boyz With Fun / Attack On Bangtan / Fire / Silver Spoon (Baepsae) / Dope (Medley)

Airplane pt.2

VCR (V focus)

Singularity (V solo)

FAKE LOVE (Rocking Vibe Mix)

VCR (Suga & Jin focus)

Trivia: Seesaw (Suga solo)

Epiphany (Jin solo)

The Truth Untold (feat. Steve Aoki)

Outro: Tear

MIC Drop

Intermission (VCR)

Encore

So What

Anpanman

Answer: Love Myself
BTS World Tour Love Yourself Merchandise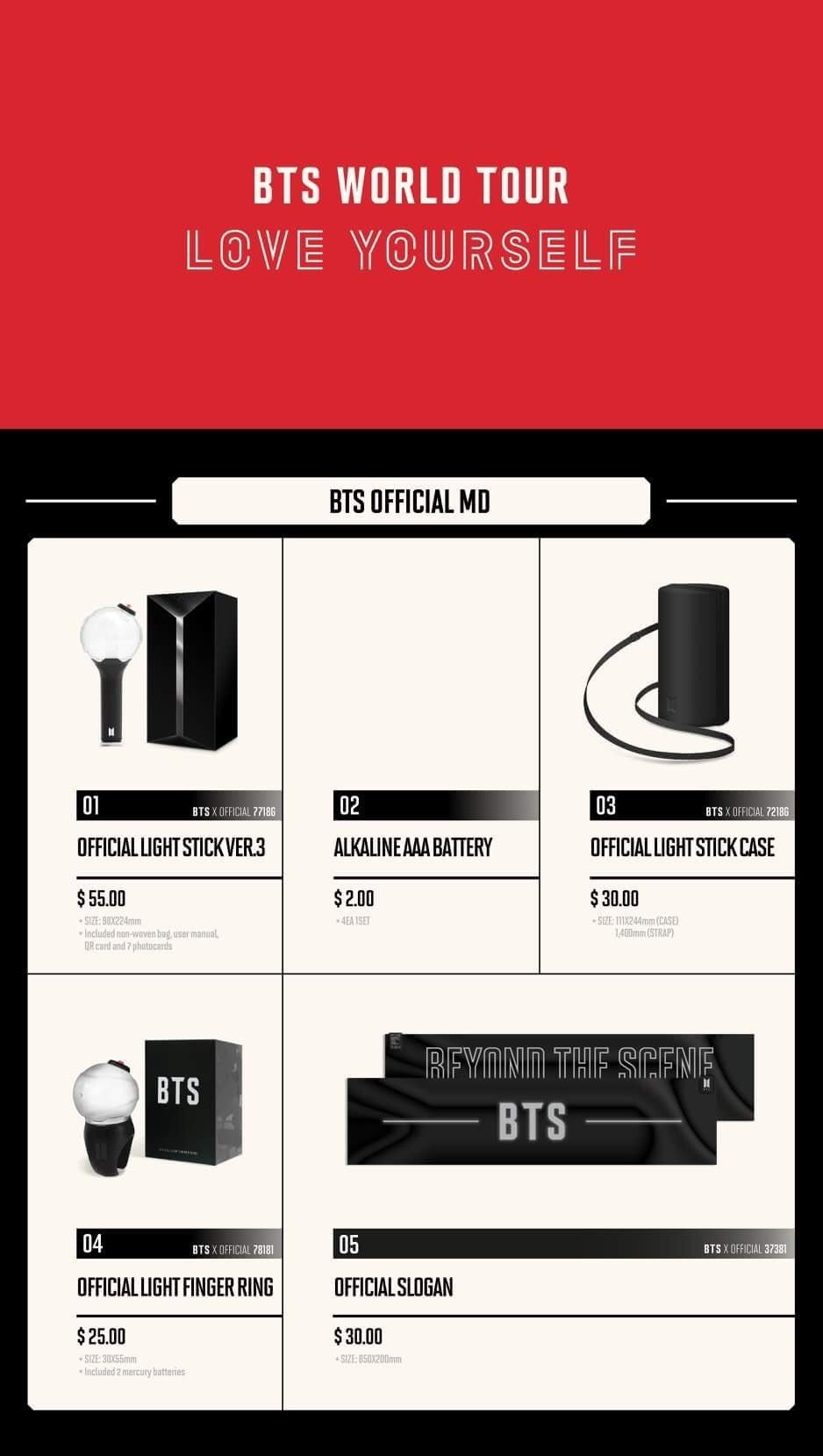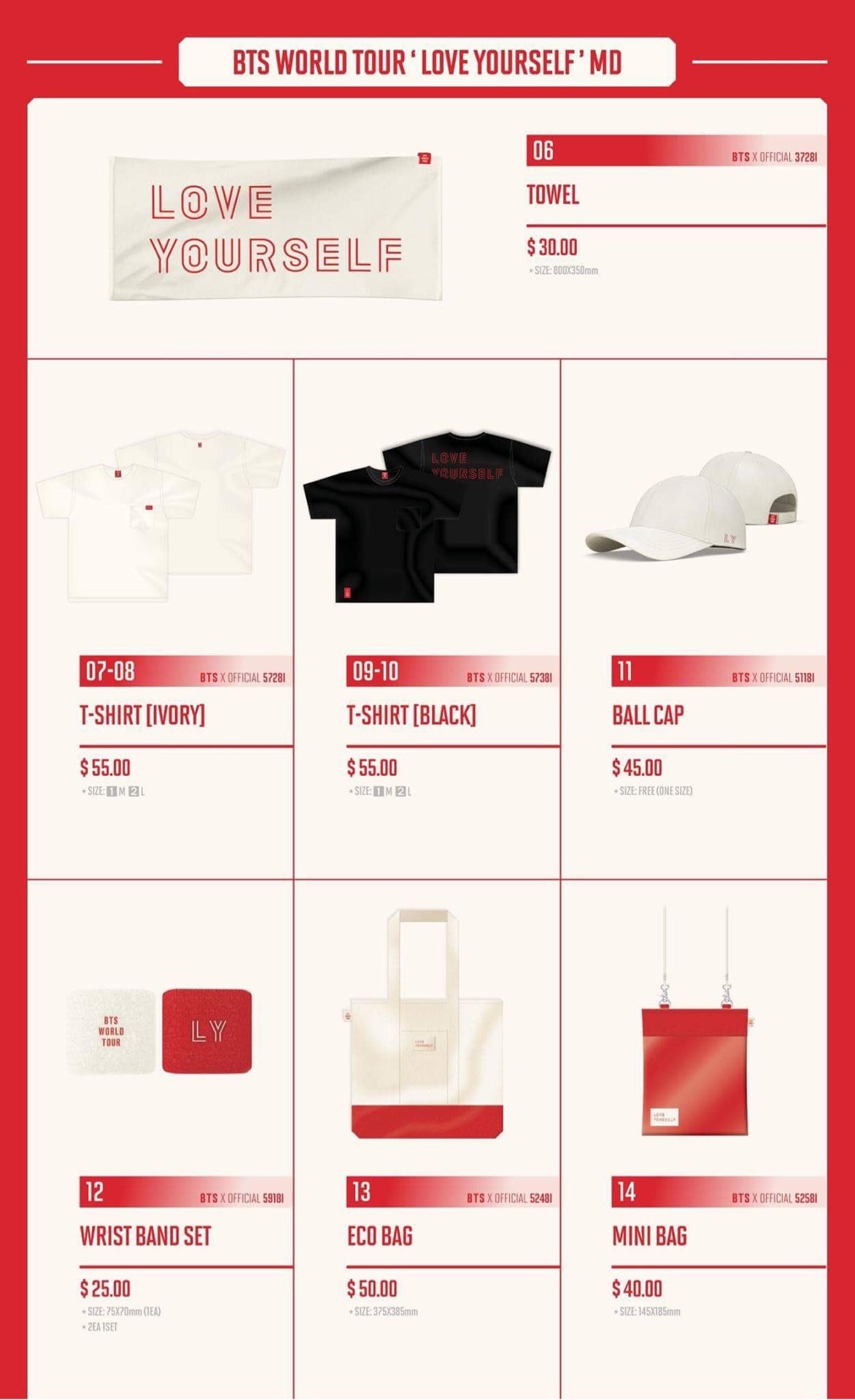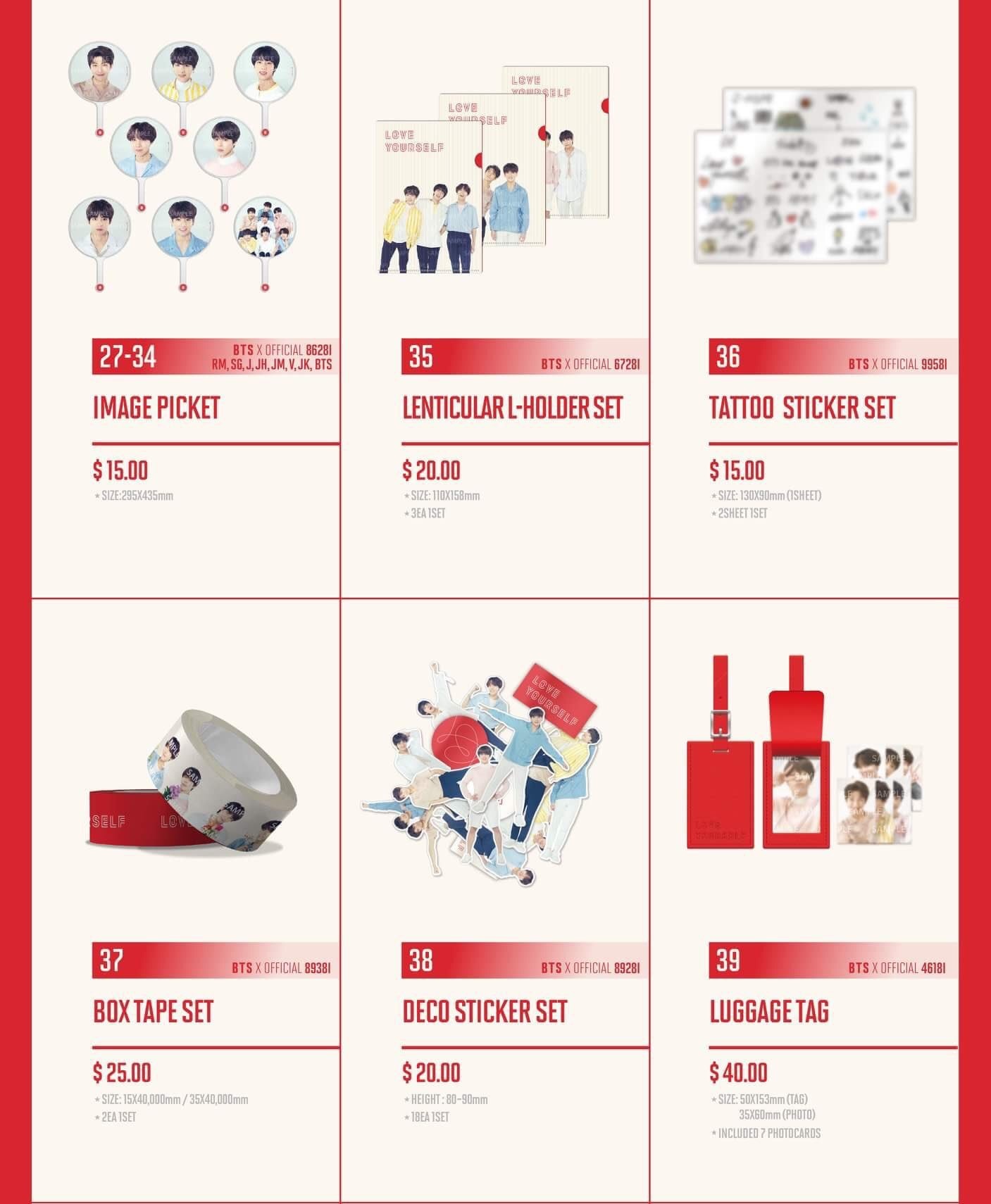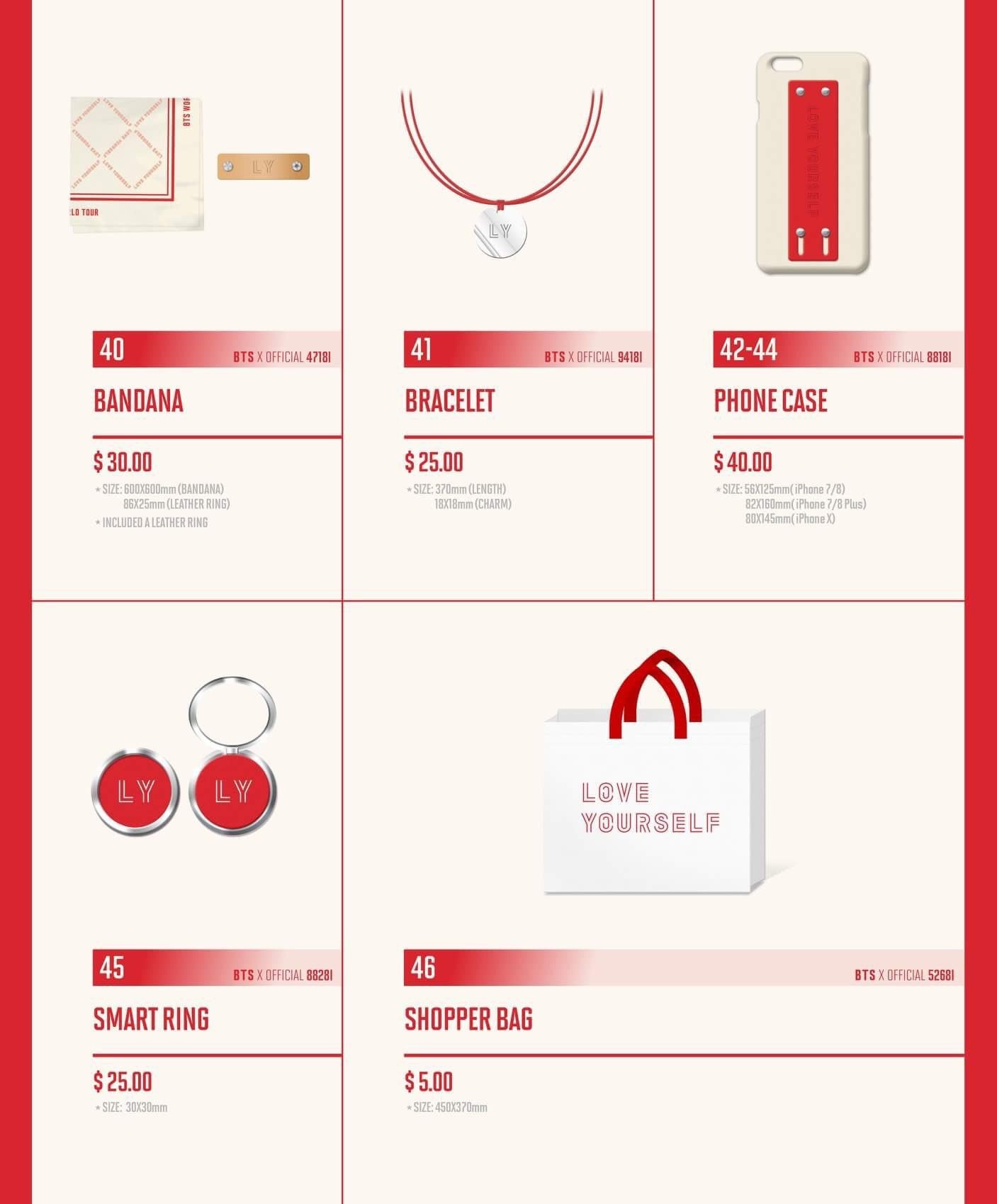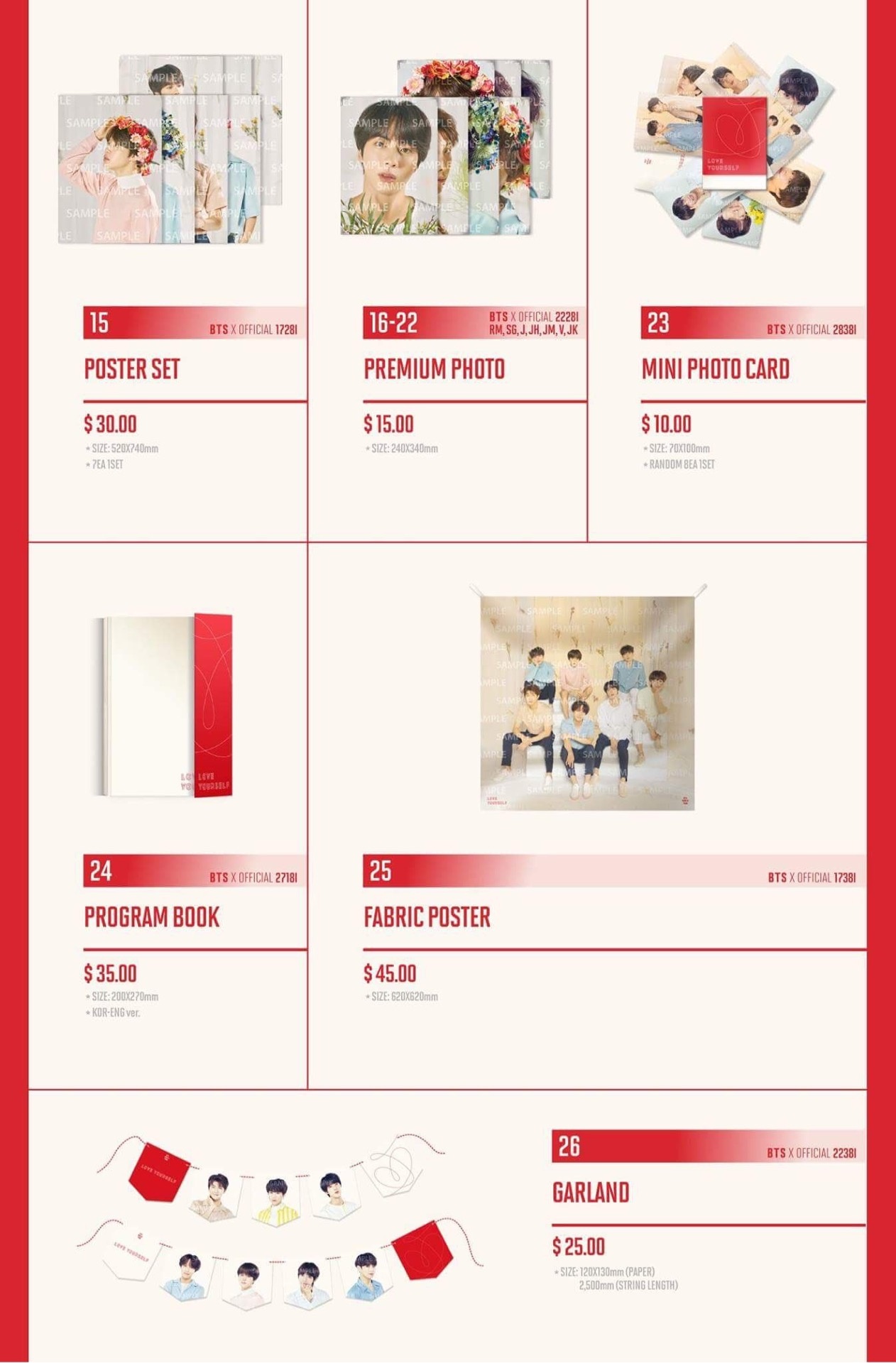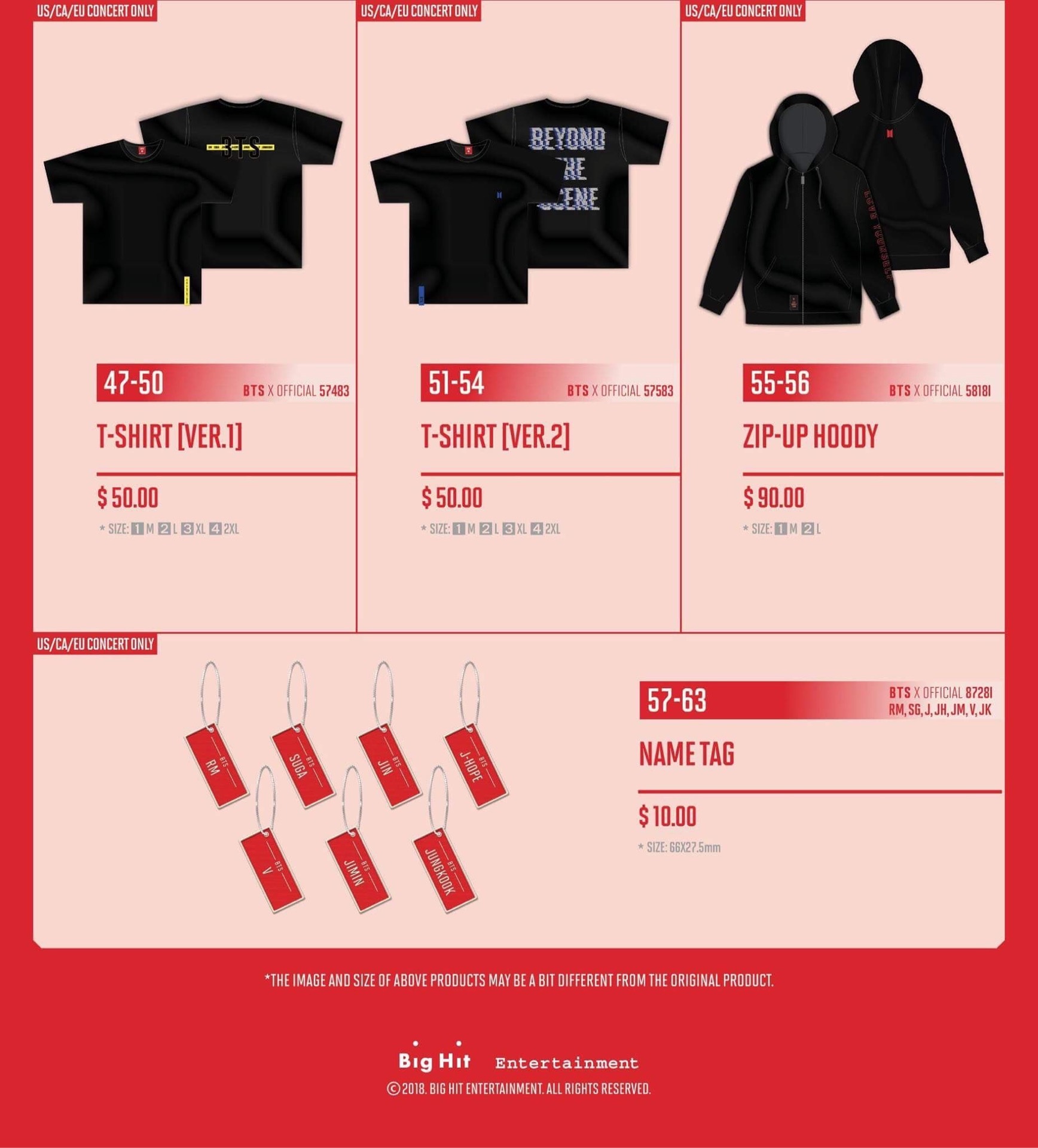 Answering all your questions about the "Love Yourself" Concert
Show times ( London )

9 October - 8pm - 10pm (subject to change - check back the week of the show).

10 October 8pm - 10pm

I bought tickets from a re-sale site. Will I be able to get in?

There is no way to tell if tickets are valid tickets until they are scanned on the night. Re-sale sites work like ebay so they don't own the tickets either, they just provide a platform for a customer to sell their tickets. However, most re-sale tickets are fine (and just sold at inflated prices).

Someone bought the tickets for me, can i get in?

Yes, this is not a names on ticket event, so you can use tickets bought for you by someone else without having to bring their ID.

Can I bring a gift for the group?

BTS have requested that you don't bring gifts.

Can I bring an Army bomb to the event?

You can bring your Army Bomb. They will also be on-sale on the site.

Can I bring a banner to the show?

Posters / banners should be no bigger than A3 size and not contain anything that displays inflammatory or offensive wording.

Large flags, drapes, hard materials or larger than A3 banners are not permitted.

What time can we start lining up?

Camping out or overnight queuing is not allowed in London. The O2 building opens at 9am so you can arrive from then to queue. This information might be updated nearer the time of the concerts so please stay tuned.

Will there be BTS Studio?

YES! The BTS studio will be here for this concert. More information coming soon.
What is BTS Studio?
BTS STUDIO is presented by LG. It is an unique experiential installation made in collaboration between BTS and LG.
BTS STUDIO Presented by LG has four sections:
The LG Experience Gallery gives an exclusive, behind-the-scenes sneak peak at an ad featuring BTS, as well as the chance to see outfits that the BTS members wore in the commercial.

The Virtual Photo Booth where fans can take a virtual photo with one of their favorite BTS member. Much like a VR experience.

The Virtual Video Booth allows fans to record and send video messages cheering for BTS.

The LG Sound Experience Zone lets fans enjoys songs by BTS played through LG speakers.
BTS World Tour Love Yourself Europe Dates
London, England - Oct. 9, The O2 Arena
Oct. 10, The O2 Arena
Amsterdam, The Netherlands - Oct. 13, Ziggo Dome
Berlin, German - Oct. 16, Mercedes-Benz Arena
Oct. 17, Mercedes-Benz Arena
Paris, France- Oct. 19, Accorhotels Arena
Oct. 20, Accorhotels Arena